Home Elevators
from Stiltz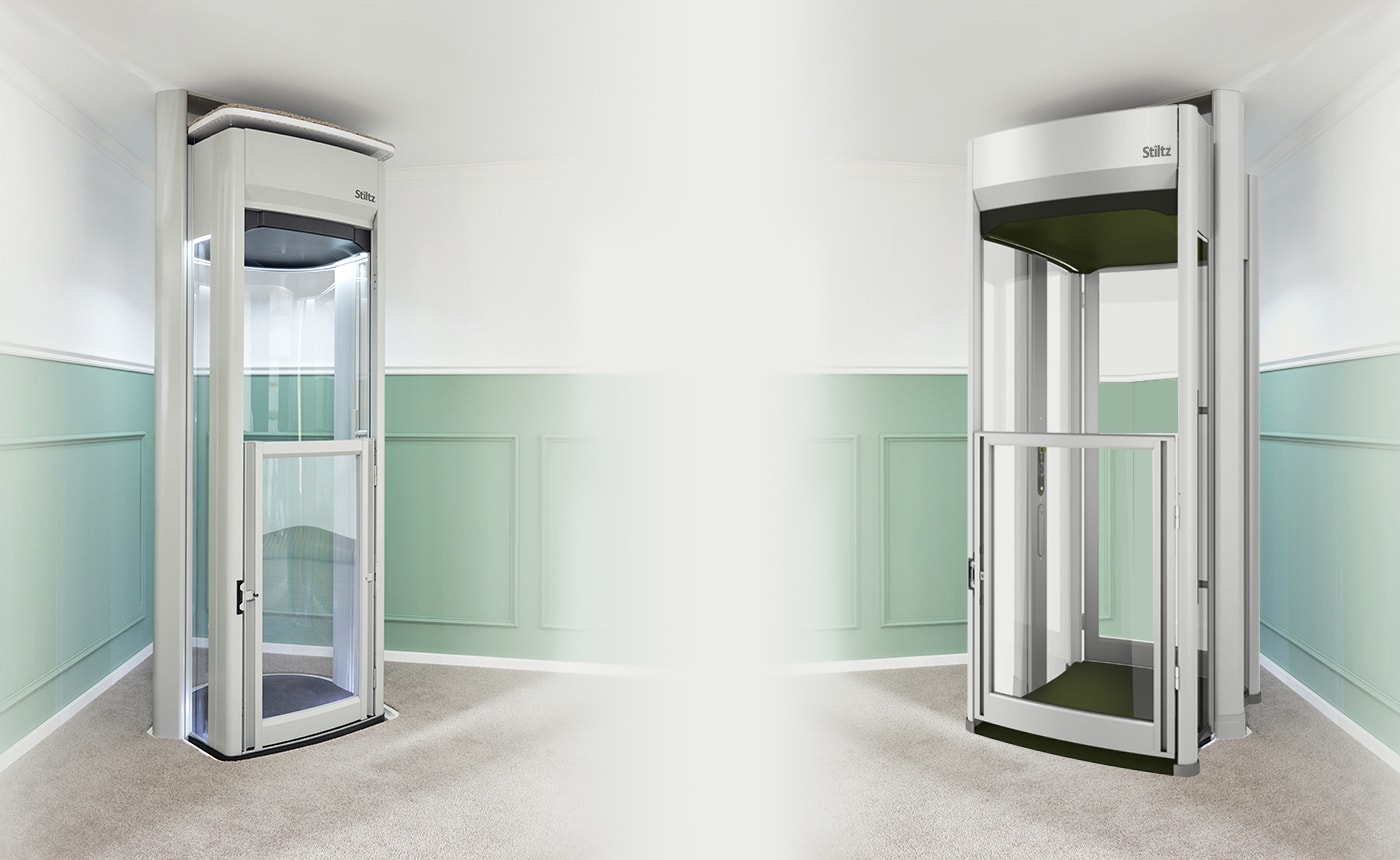 The home elevator which becomes part of your home
Stiltz Home Elevators Canada offer a range of unique and compact residential elevators which can be installed virtually anywhere in a Canadian home. From Toronto to Montreal and Winnipeg to Vancouver, Stiltz have been helping to make people's lives across the country easier and more comfortable by providing them with a simple floor-to-floor accessibility solution.
The Stiltz Home Elevator is the only home lift of its kind to be available in Canada and the perfect alternative to a stairlift allowing you to keep the stairs in your property untouched. Our selection of residential elevators are also much more appealing than a conventional in-home elevator which can be costly and complicated to install.
At Stiltz, our innovative home elevators do not require hydraulics or need fixing to walls. The Stiltz in-home elevator is powered by a built-in drive system and plugs straight into a normal domestic power socket. Our home lifts travel on self-supporting vertical stilts making the elevators very flexible and quick to install with typical installation taking no more than one day. Make a Stiltz home lift become part of your home today. Contact us now for a free site survey.
Call (844) 4 STILTZ or (610) 443-2282
or email us to order your free Stiltz Lifts information pack.
Stiltz beat the competition hands down by the home elevator's small footprint, technical brilliance and elegant design.
Raymond, 69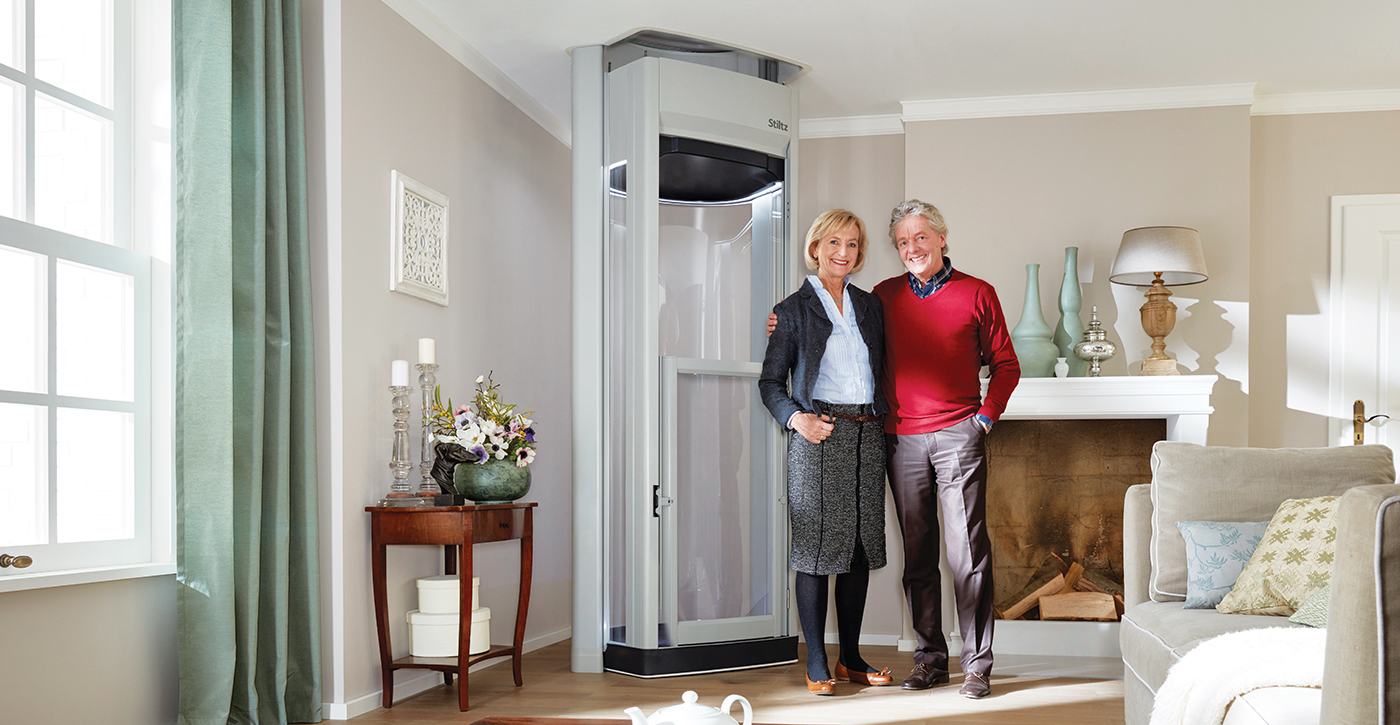 The Stiltz Duo Home Elevator enables you to stay in the home you love when the stairs become challenging in later life and is a much more cost-effective solution when compared to moving house. Our home lifts are safe, fast and quiet and can be fitted in almost any location in an American home. A residential elevator is an astute addition to your property and a worthwhile investment. Improve your quality of life with a Stiltz Duo lift.
Perfect stair lift alternative
Small footprint of under 7sf
Carries two people
Also available as Classic, Vista or Thru Car
It costs a lot of money to move house but investing in a Stiltz residential elevator has meant we can stay in the home we love.
Paul, 47
My husband is in a wheelchair and Stiltz's lift has given him his independence back and changed our lives.
Ann, 46
It's absolutely wonderful and the lift is very quiet too. My wife couldn't be without it now. We're very satisfied.
Don, 80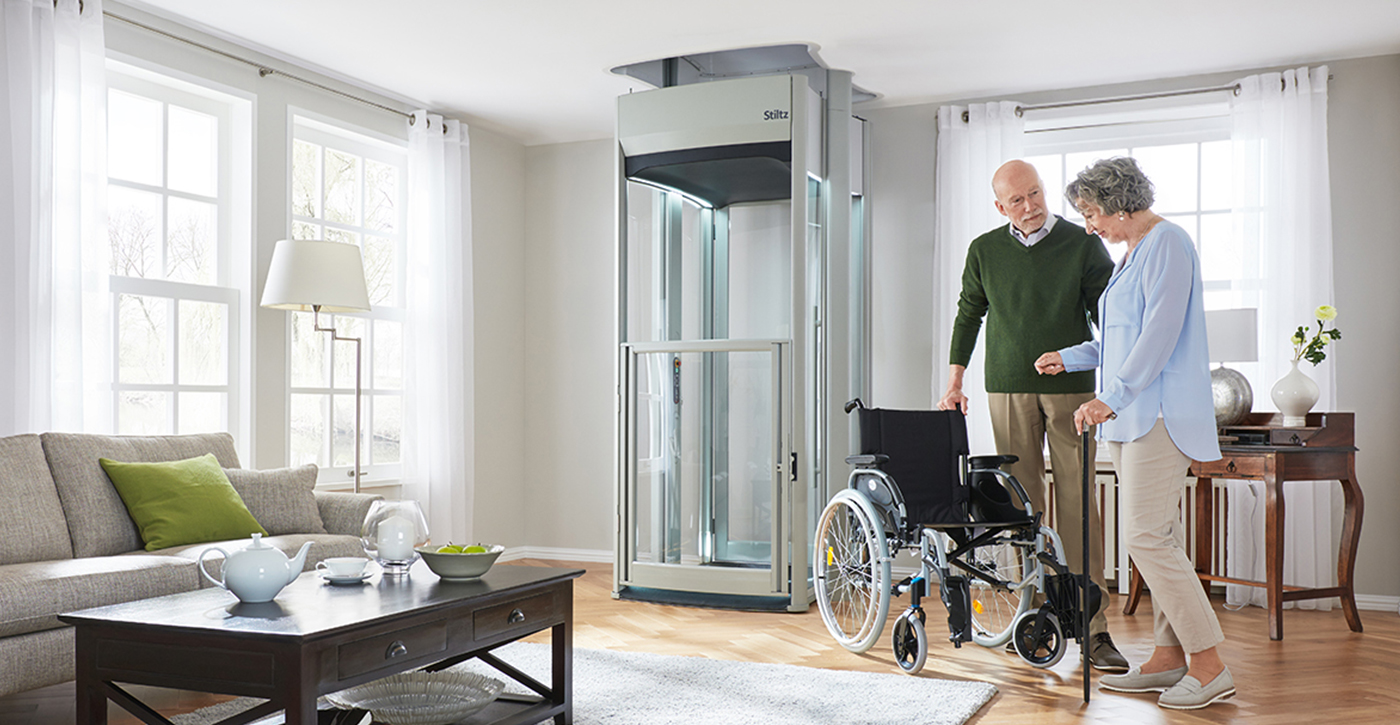 The Stiltz Trio Home Elevator enables wheelchair users to take back control of their lives by enabling them to live independently at home. Larger than the Duo but still compact and spacious, the Trio is designed to hold a standard sized or manual wheelchair and is ideal for users with a walker or rollator. This residential elevator has a bigger interior cab space and heavier weight capacity so can carry an extra person and easily transport other big items.
Big enough for a standard wheelchair
Small footprint of under 13½sf
Carries three people
Also available as Classic, Vista or Thru Car
Typical Home Elevator Applications
Standard Retrofit
This is the most common Stiltz installation with the home lift travelling between a downstairs room such as a hallway or living room and arriving upstairs in a bedroom or landing.
Stairwell Void
There is enough room within a turning staircase for a Stiltz home lift to use the dead space in the void. This is a unique feature of the elevators because of its shape and small footprint.
Closet to Closet
Stiltz home lifts are spacious but compact enough that they can often be fitted in a closet on both floors. This application is ideal for customers looking to conceal their residential elevator.
Thru-Car
Stiltz home elevators are capable of having a double entry or thru car configuration due to our unique dual rail system. This allows users to enter and exit from both sides of the home lift.
Sloped/Cathedral Ceiling
The rails of a Stiltz in-home elevator need a horizontal surface to fix to – some simple modifications will make it possible to install the the lift to a sloped or cathedral ceiling
Garage
Stiltz home elevators will allow you quick and safe access from a garage into your home. This application will require the construction of a simple shaft in the garage.

For more information please call (844) 4 STILTZ or (610) 443-2282